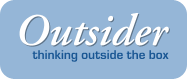 I just got a whole lot of free advertising compliments of Xara.com by having my work highlighted in their monthly newsletter,
the Outsider
. There is a link that takes you to their
Inspirational Art page
that starts off with my cartoon slideshow and some tutorials I've done and, if that wasn't enough, they included a link to my animation
"Little Pebble."
In addition, they updated my gallery with some new art at
the Xara Gallery
. Whew! So check it out!
One thing I don't understand about Little Pebble is how few views it has gotten. I felt it was one of my best animations to date. Hmmmm.